The Tea Route, which Francis Joyon and the crew of the IDEC SPORT maxi-trimaran are following (ETA in London on Wednesday), is the basis of an ocean record dating back to the nineteenth Century. At that time, the big American and British clippers trading tea between China and Europe fought merciless battles to be the first back to London with their cargo to be able to sell their tea at the best price. Francis Joyon and his crew are also bringing some tea back to Europe after their long Asian voyage. Not to sell it, but to promote the ancient way of growing tea, which continues today, and the beneficial educational measures put in place in particular in Vietnam, where the boat had a stopover in December. We look back at one of the remarkable stopovers in the IDEC SPORT ASIAN TOUR – Vietnam.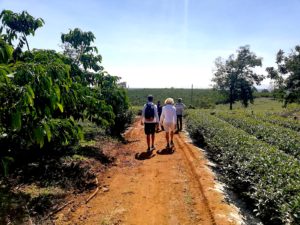 During the stopover in Ho Chi Minh City, the crew of IDEC SPORT took advantage of the opportunity to meet some producers of tea, spices and organic herbs grown near Saigon by the isolated communities in Northern Vietnam. The crew were able to visit   the Bao Loc tea garden, meet some producers, stroll around the tea plantations, taste the famous green tea and bring some samples of this organic, traditional product back to London with them.
Traditional green tea, which is organic and fair trade
Organised in a cooperative, the Hiep Thanh Co firm, which welcomed the crew of IDEC SPORT works with 850 households and has developed the production of the traditional tea over 650 hectares. The product has been certified as an organic and fair trade product. Hiep Thanh Co also supports the philanthropic organisation, SANSE in order to encourage access for young people in the isolated regions of Vietnam to higher education.