Conquering the Jules Verne Trophy, an all-female competition!
Credit © Instagram "the_famousproject"
The Famous project is a sailing challenge to take place in 2025, initiated by Alexia Barrier, a great sailor, with an all-female crew.
Alexia and her team-mates will set off aboard the maxi-trimaran Idec Sport in a bid to win the Jules Verne Trophy.
Alongside Alexia, the 7 best female sailors in the world will be there to take up this challenge:
Dee Caffari, Alexia's co-skipper and solo round the world record holder
Helena Darvelid, an expert in water speed records
Sara Hastreiter, the sailor with 7 summits
Elodie Jane Mettraux, multihull specialist
Joan Mulloy, from Figaro to Ocean Fifty
Marie Riou, winner of the Volvo Ocean Race
Marie Tabarly, skipper of Pen Duick VI
Beyond the trophy itself, The Famous Project aims to inspire younger generations by basing its ambitions on shining a spotlight on women, protecting the oceans, educating the younger generation and challenging oneself.
A few figures
This crew's record is the most solid of all those who have already attempted this record:
// 12 circumnavigations
// 54 Transatlantic crossings
// 3 Transpacifics
// 28 World Records
// 16 Championship titles
The Jules Verne Trophy is :
// 25 years of history
// 9 victories in 19 attempts
// 21,760 nautical miles
// 1 record held by Francis Joyon on Idec Sport in 40 days 23 hours, 30 minutes and 30 seconds since 2017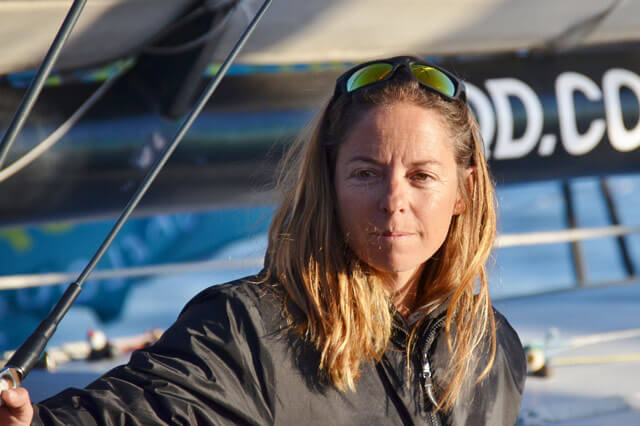 Alexia BARRIER
IDEC SPORT is sponsoring and will be accompanying Alexia BARRIER and her crew on this round-the-world race. Alexia has been an ocean racer since she was a teenager and has completed the Equator Route in 2007, the Maxi Transatlantic in 2011 and the Route du Rhum in 2018. She will be completing her first solo Vendée Globe in 2020.
She is therefore the perfect captain for this new adventure.
"Tackling the Jules Verne is a bit like walking on the moon".
Alexia BARRIER