A race team mixing experience and youthfulness
IDEC Sport's car racing team is based in Fontenay-Tresigny (île-de-France), and includes two LMP2 cars (an Oreca 07 and a Ligier JS P217) and a GT (a Mercedes AMG GT3).
Seven employees work full time for the team. During race weekends the number in the IDEC SPORT team can climb to 24, including engineers, mechanics and the communications team…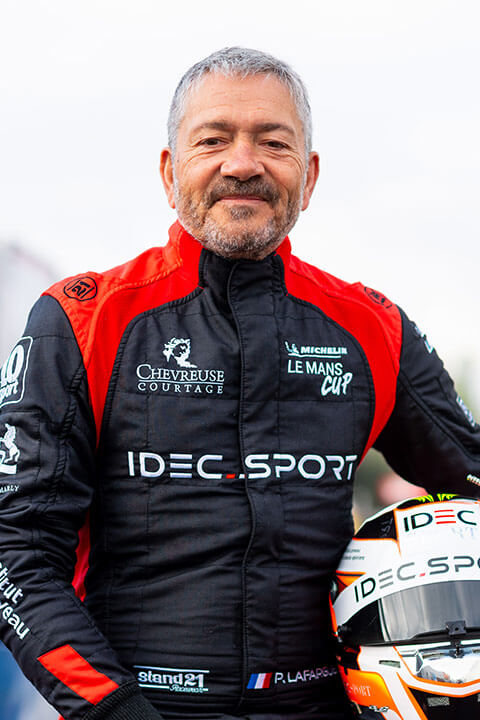 PATRICE LAFARGUE
PRESIDENT OF IDEC SPORT

President of the IDEC Group during the week, Patrice Lafargue likes to spend his weekends behind the steering wheel of his racing cars. As he likes to tell his team, the main thing is to enjoy it. Even if his team is today semi-professional, the competitive side must not come before the enjoyment of racing.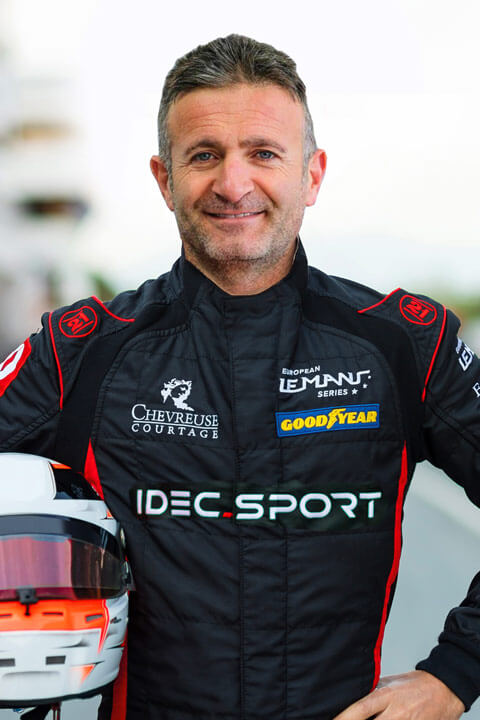 NICOLAS MINASSIAN
MAIN TEAM, SPORT DIRECTOR
Having arrived at IDEC SPORT in 2018, the former Peugeot professional driver in WEC is taking on even more scope in 2021 by becoming Team Principal. His experience in motorsport is extensive, whether in driving, technical or management, which makes him an ultra versatile sports director. The man with 9 victories at the wheel of the 908 and 17 participations in the 24 Hours of Le Mans, brings a lot to IDEC SPORT but there is still a lot of work to be done to settle the details that will lead to victory. Nicolas Minassian will start his 6th season with IDEC SPORT in 2023.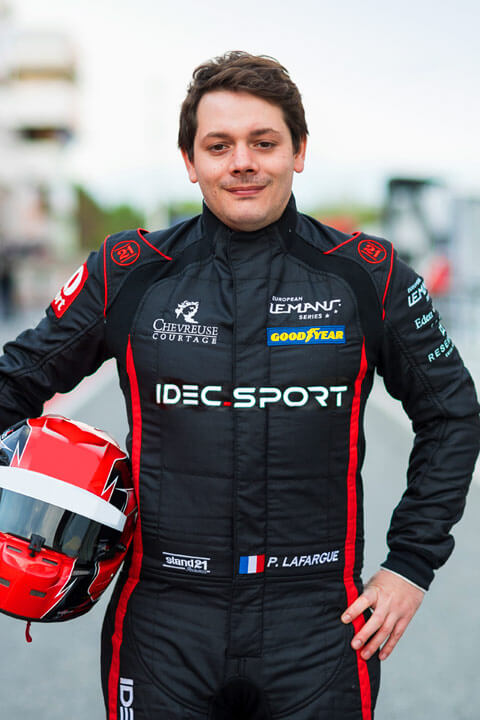 PAUL LAFARGUE
ELMS, LMP2 #28
The son of Patrice Lafargue has made a name for himself in the world of endurance racing over the seasons thanks to his speed and consistency. Always in search of performance and progression, he is considered one of the best Silver drivers on the ELMS grid. Paul now has a solid experience with 7 participations in the 24H of Le Mans and some nice lines on his resume with notably a European Champion title in 2019.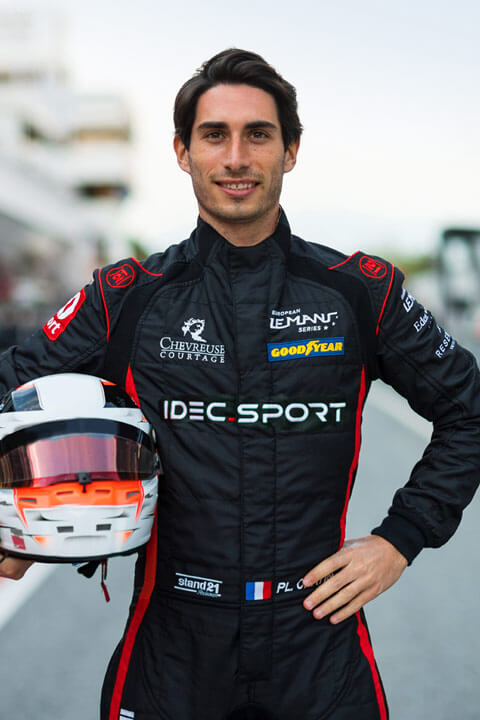 PAUL LOUP CHATIN
ELMS, LMP2 #28
He is one of the most talented French drivers of his generation in endurance racing and has proven this again on numerous occasions since joining IDEC SPORT in 2018, including a pole position in the 2018 24 Hours of Le Mans ahead of the world's best teams. The 2019 season also saw Paul-Loup Chatin and his teammates crowned in ELMS. His top speed makes him one of the fastest drivers in LMP2, all categories combined. In addition to being fast, PLC has made a name for himself within IDEC SPORT and is appreciated by all. It's a safe bet that he will be the spearhead of IDEC SPORT for this new season.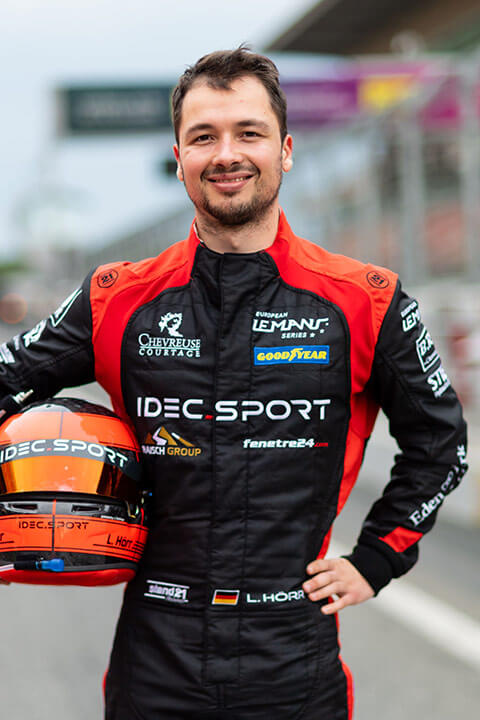 LAURENTS HÖRR
ELMS, Oreca #28
Laurents Hörr began his single-seater career in 2014, competing in two races with Dutt Motorsport, a team he owned with Rolf and Oliver Dutt, in the Formula Renault 1.6 Northern European Cup.
The following season, he took his first single-seater victory at Anderstorp Raceway while competing in the Formula Renault 1.6 Northern Championship. Hörr began competing in Formula Renault 2.0 in 2016. Then in LMP3 from 2019 to 2021 before competing in the 2022 Le Mans 24 Hours in LMP2.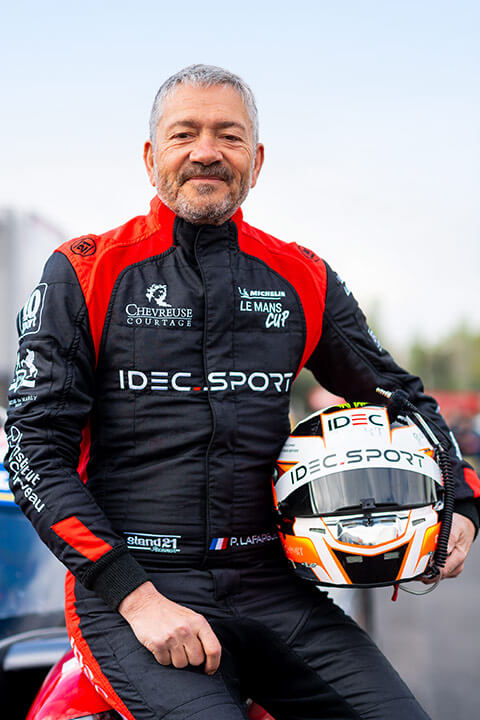 PATRICE LAFARGUE
MLMC, Ligier #17
Patrice is no longer a beginner in motorsport but still lives each race weekend with passion, the same passion that drove him to create IDEC SPORT in 2015. After sharing the wheel with his son at the 2017 24 Hours of Le Mans, he decided to fully embrace his role as a team owner by stepping back and racing competitive trios in LMP2. But a competitor at heart, there was no question of hanging up the helmet completely. Patrice is competing in the ELMS' sister championship, the Michelin Le Mans Cup, in the LMP3 class.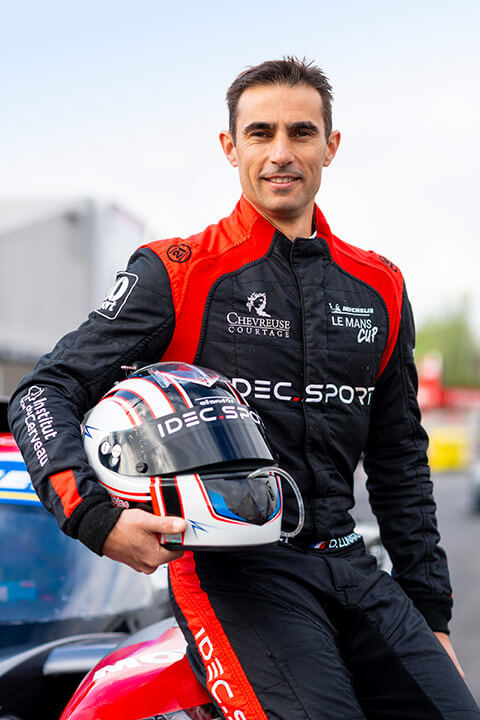 DINO LUNARDI
MLMC, Ligier #17
Dino Lunardi is an experienced driver who knows the Michelin Le Mans Cup and the Ligier JSP3 inside out, having driven them for four years in this championship. The Frenchman is a real asset to IDEC SPORT thanks to his speed and consistency.