A sporting challenge, a human challenge, a planetary challenge, this is the maritime epic of the century. In 2025, Alexia Barrier and her 7 crewmates will set off on the legendary Jules Verne Trophy aboard the Maxi-trimaran Idec Sport. A non-stop, unassisted circumnavigation of the globe under sail. Their objective? To set a benchmark time for a women's crew, and why not, claim the record. The culmination of a much bigger and more ambitious project: The Famous Project.
"Tackling Jules Verne is a bit like walking on the moon" (Alexia Barrier)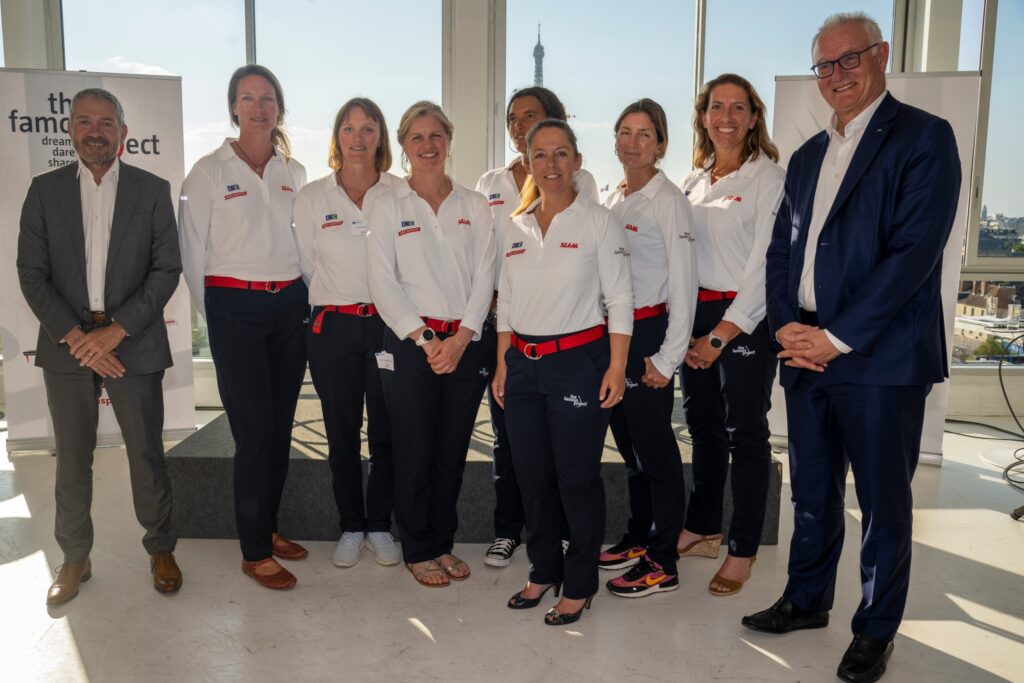 Photos credit © Marie Cortial
Operation "Womanity", a crew of excellence
For this adventure, Alexia Barrier has surrounded herself with the best international female sailors, 7 sailing rockstars!
Dee Caffari, Alexia's co-skipper and solo round the world record holder
Helena Darvelid, expert in water speed records
Sara Hastreiter, navigator of 7 summits
Elodie Jane Mettraux, multihull specialist
Joan Mulloy, from Figaro to Ocean Fifty
Marie Riou, winner of the Volvo Ocean Race
Marie Tabarly, skipper of Pen Duick VI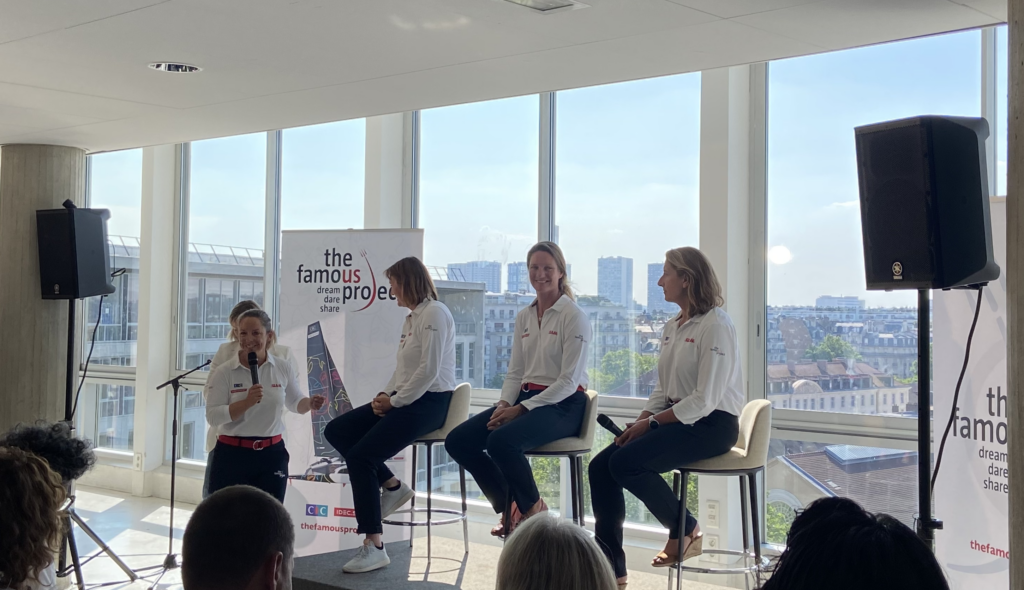 Each of them excels in his or her field and is an indispensable asset. The first training sessions have already demonstrated the perfect cohesion between these top-level athletes, guided by Jonny Malbon (team manager) and Brian Thomson.
It's a harmony that's as much professional as it is friendly, which bodes well for the future. New recruits will soon be joining this all-female crew.
The Maxi-trimaran Idec Sport, a legendary boat
To succeed in their gamble, the sailors will be embarking on the fastest maxi-trimaran in the world: Idec Sport, holder of the Jules Verne Trophy record since 2017 in 40 days 23 h 30 min and 30 sec.
But before taming the boat, the crew will first be learning the right reflexes on the MOD70 Limosa, ex-Spindrift Mana, over the coming months. 
The Famous Project, more than just a sports project
In addition to the Jules Verne Trophy, The Famous Project aims to inspire, to change things and to raise awareness. This ambition is based on 4 essential pillars:
People, to highlight the women of our planet.
The environment, to protect our oceans.
Education, to raise awareness and inspire younger generations.
Surpassing oneself, the essential need for cooperation and the demands inherent in ocean racing.
Loyal and committed partners 
To achieve this, The Famous Project can count on committed partners: CIC, founding partner, and Idec Sport, official partner.
UNESCO and 4myplanet are also supporting Alexia Barrier in her project. Privileged allies on both social and environmental levels.
SLAM, the Italian company, is outfitting the team and is benefiting from technical collaboration to test and improve the nautical clothing.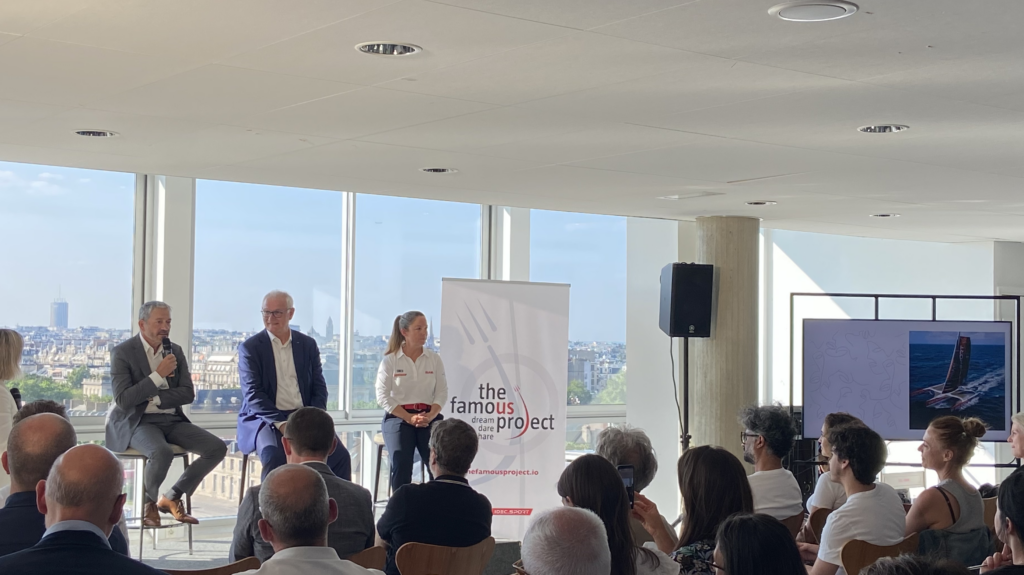 They said:
Alexia Barrier, Famous Project skipper
"We want to make every woman on the planet "Famous"! To highlight those who dare and inspire others to come out of their shells, to make their dreams come true."
"I tried to prepare for a new Vendée Globe but I wasn't in phase with this project. It's the Jules Verne Trophy and the maxi trimaran that make me dream."
Patrice Lafargue, Chairman of IDEC GROUP and IDEC SPORT
"This new adventure marks the start of a unique collaboration which sets an ambitious goal: to set off for the Jules Verne Trophy with an all-female crew who will be doing their utmost to improve on the mark set by the IDEC SPORT maxi in 2017 with Francis JOYON at the helm. She is also the symbol of shared values for the environment, inclusion, passion, surpassing oneself and commitment."
UNESCO
"The FAMOUS project directly addresses UNESCO's major priorities well beyond ocean research, contributing to our efforts towards gender equality and support for sporting activities as vehicles for social inclusion".
Key figures
This crew's record is the most solid of all those who have already attempted this record:
12 Round the World Tours
54 Transatlantic
3 Transpacific
28 World Records
16 Championship titles
The Jules Verne Trophy is :
25 years of history
9 wins from 19 attempts
21,760 nautical miles
1 record held by Francis Joyon on Idec Sport in 40 days 23 hours, 30 minutes and 30 seconds since 2017