The IDEC SPORT maxi trimaran passed through the famous Sunda Strait marking the entry into the Indian Ocean to the South of Malaysia shortly after three last night. Francis Joyon, Bertrand Delesne, Christophe Houdet, Antoine Blouet and Corentin Joyon took just under four days to cross the South China Sea after setting sail from Hong Kong last Saturday. This morning they had a lead of more than 300 miles over the record pace set by the Tea Route record holder, the 70-foot trimaran, Maserati skippered by the Italian, Giovanni Soldini. The wind has been very light since crossing the Equator yesterday, but it never left the sails of the maxi trimaran, which has started to tack across the huge Indian Ocean. The trade winds were present in December when they set the record to Ho Chi Minh City, but now they are being disturbed by a lot of small low-pressure systems and the Famous Five will be kept busy over the coming days trying to pick up stronger winds to the SW after dealing with an area that is very similar to the Doldrums. 
An island that appeared out of nowhere
Hundreds of cargo vessels, strangely shaped fishing boats, tiny islands that are not shown on the charts…. The crossing of the China Sea certainly offered them some unexpected sights, discoveries and surprises.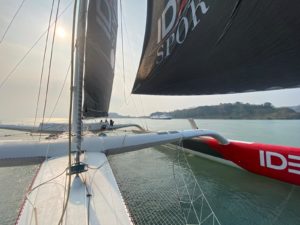 In the Equatorial heat, the crew of IDEC SPORT had to be particularly vigilant, zigzagging between all these obstacles in amongst some strange phenomena, such as the forest fires in Java and the Krakatoa volcano bellowing smoke, which IDEC SPORT had to move away from. In addition to these exotic features there were also a number of gybes to carry out, unfortunate encounters with tree trunks and some remarkable squalls.
On this fifth day of racing, the sailors or the Famous Five as Francis calls his team, are still smiling. "Getting to the Sunda Strait in less than four days is a good start," stressed Francis. An off-colour Christophe Houdet, victim of a stomach upset, has been the only downer in this excellent start to the Tea Route record. 
Slow ahead?
What lies ahead looks much trickier. In the next 48 hours, the big trimaran will not be back at the high speeds we are used to seeing. Francis and his men are going to have to squeeze their way around areas of light airs. The change will come further to the SW where they will pick up stronger winds. This will allow them to make headway towards the West and the southern tip of Africa, where there is a small tropical low-pressure system they will have to round far to the south. It is there that IDEC SPORT will encounter violent winds and heavy seas.