The IDEC SPORT maxi-trimaran skippered by Francis Joyon and his crew attempting to break the Tea Route record between Hong Kong and London, has found it hard to make progress today (Saturday) towards the Cape of Good Hope that they were hoping to pass during the day. Sailing 200 nautical miles from the Cape, they are now expected to round the legendary point marking their return to the South Atlantic during the night.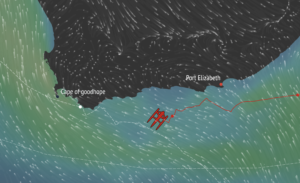 Having to deal with light airs blowing at hardly ten knots from the SE, the big trimaran has carried out a long series of gybes to find the right angle to make the best headway possible towards the west at the best speed. Ahead of the bows of IDEC SPORT, Cape Agulhas (the southernmost tip of South Africa) and the famous Cape of Good Hope, marking their return into the Atlantic and the start of the big climb back up towards London.
They will have a long voyage up the Atlantic along the coast of Africa with a series of difficulties with in particular, having to work out how to deal with the huge St. Helena high.
To beat the TEA ROUTE record they are going to have to improve on the time set by the Italian skipper, Giovanni Soldini and his crew on the trimaran, Maserati of 36 days, 2 hours and 37 minutes. Joyon and his crew will have to reach London by 1136hrs UTC on Sunday 23rd February.