It has been a difficult night for IDEC SPORT, as Marcel Van Triest, the onshore router for Francis Joyon had predicted. It took a lot of manoeuvres to make the most of the dying wind and we can be fairly certain the six men didn't get much sleep.
At 15 degrees south, IDEC SPORT is in the area of uncertainty we spoke about yesterday with large areas of light airs off the coast of Brazil. "We're going to have to fight hard," Francis Joyon told us yesterday afternoon and that is what has been going on. At times, the speed bounces back up (to around ten knots), but in general it has been very light during the night.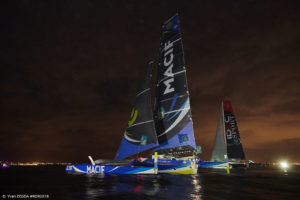 No panic however, as this area of light airs was forecast. However, now the question is how long it will take the crew of IDEC SPORT to get away from this area of calms. Yesterday, Francis Joyon hoped that it would just be a problem for Sunday. So we need to watch the positions every two hours hoping that the wind picks up and becomes more favourable to allow them to make good headway south.
Logically – particularly as Banque Populaire V was very fast in this section – the lead over the reference time has been severely cut and is down to around a hundred miles this morning (Sunday) exactly one week after the attempt started. But let's not make any hasty conclusions. There is still a long way to go. They have 38 days left to make it back to Ushant to be within the Jules Verne Trophy record time.