Francis Joyon and the crew of IDEC SPORT crossed the finish line for this new record between Mauritius and Vietnam during the night and then made their way up the river towards Ho Cho Minh City (formerly Saigon) which they reached late this morning. The skipper of IDEC SPORT gave us his first impressions about this very unusual voyage across the Indian Ocean and the new record time of 12 days, 20 hours, 37 minutes and 56 seconds.
A bold challenge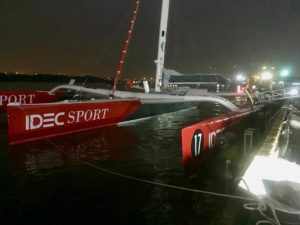 Francis Joyon: "This new route across the Indian Ocean into the NE'ly trade winds, followed by the tricky passage through the Sunda Strait and then the crossing of the South China Sea was a very daring challenge for us and it was very complicated. Based on the boat's polars and after Christian Dumard studied the weather forecasts, we were expecting a race time of between 14 and 16 days. We are satisfied to have got the time down to below 13 days.
A mindblowing finish
It is true that our entry into the China Sea was very hard. The boat was really slowed down and we had to fight hard sometimes not to drift backwards in the strong currents below Sumatra. It took us three days to reach the coast of Borneo. With hardly any transition, we found some fairly nasty conditions when we entered the China Sea after doing our best to avoid punishing the boat. We really felt for her in these boat-breaking conditions with 12-foot high waves and breakers coming straight at us. The boat was really slamming to the extent that it was impossible to stay in our bunks or eat the slightest meal. The finish in the Mekong Delta was a totally irrational moment. There was almost 35 knots of wind and in spite of that, the sea was covered with fishermen pulling in their nets and hundreds of boats. It's a miracle that we didn't get anything caught up in the appendages. We zigzagged around these boats. Then, we saw huge container vessels sailing up and down the river. The Mekong brings down all sorts of objects, mainly tree trunks. It was a bit stressful.
Simple pleasure
But we enjoyed it. We were delighted to discover this incredible delta and this civilisation. Pleased to have sailed well, particularly in the Indian Ocean. We were constantly above the polars. We were pleased to have looked after the boat well. We said back at the start that it was vital to preserve her in this Asian Tour. I congratulated and thanked my team and assistants, who did what was required to get us here in perfect shape from Brittany after almost 15,000 miles of racing? We are very tired, because during the intense heat, it was almost 50 degrees inside the boat, then we had to sail into the wind and heavy seas, which all meant we didn't get any res. We now have to deal with the paperwork to enter Vietnam. Then, we'll get some rest before discovering Saigon."