Francis Joyon is heading back out to sea. The winner of the last Route du Rhum, who still holds the crewed round the world record (Jules Verne Trophy) set with a time of 40 days and 23 hours, is looking for new adventures with different horizons. In late October, he will set sail alone on a voyage matching his extraordinary talents aboard the legendary IDEC SPORT maxi-trimaran.
Francis will be heading east to the Far East, alone aboard his giant boat attempting to smash his own Mauritius record on the Spice Route between Port Louis (in Brittany) and Port Louis (on the island of Mauritius).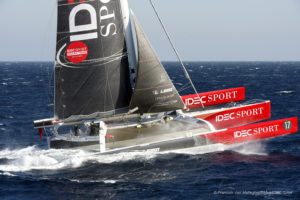 He will then shift to crewed sailing for two brand new records to Ho Chi Minh City (Vietnam), and then Shenzhen in China, before setting off one a legendary historic course, the famous clipper route between Hong Kong and London.
An Asian Tour covering a total distance of more than 28,000 miles, or the equivalent of sailing around the world. Francis intends to do this at high speed in order to return to Europe and reach London in March 2020.
3 oceans sailed alone
Around ten years to the day after his own record to Mauritius, Francis Joyon will set off again next month to attempt to beat this very record set in 2009 over a theoretical distance of 10,300 miles between Port-Louis in Brittany and Port-Louis in Mauritius. The route may offer sunshine and smiles, but it is a long way and there are many hurdles with countless complicated weather systems to deal with, which penalise the solo sailor during the record attempt in both time and distance sailed. Francis suffered during this attempt ten years ago at the helm of IDEC 2, the boat designed by Nigel Irens, which managed to set the record averaging 16.40 knots. "This is a tricky course," admits Francis. "The boat is very demanding and it is never simple rounding the Cape of Good Hope." So why do it alone? "I love crewed sailing which I only recently discovered with the Jules Verne Trophy attempts, and the second part of the IDEC ASIAN TOUR will be sailed with a crew. I set a time of 26 days 4 hours and 13 minutes sailing solo and I like the idea of trying to improve on the reference times set over a certain distance. I still enjoy sailing alone just as much and it is very satisfying. This course motivates me. It is the start of the round the world voyage until the tip of South Africa. The climb back up the Indian Ocean is not so well known for modern sailors. I tested it ten years ago and it was no easy matter. Fortunately, my crew will be joining me in Mauritius for the second part of the IDEC ASIAN TOUR"
Francis and his men have put IDEC SPORT back into Route du Rhum mode, removing the bunks and fitting the famous bicycle linked to the winches. "We are still working hard on trying to simplify the systems and make her as light as possible. The hard part is getting the details right, as we have been looking for the most resilient materials, which are as light as possible in particular for the running rigging. Above all, we have been trying to ensure her reliability taking into account the huge distances we are going to cover."
Two new crewed records before the legendary clipper route
It will be a short-handed crew as usual that will be joining Francis and the IDEC SPORT maxi-trimaran in Mauritius in November. Bertrand Delesne, the boat captain, will be accompanied by Corentin Joyon and Antoine Blouet, who have been preparing the boat, along with the loyal sailor, Christophe Houdet and Bernard Stamm, if his voyages in the Arctic allow. Finally, Arnaud Boissières may join the crew to set these two new records in seas that French ocean racers are rarely seen in.
The legendary Clipper Route
In February 2018, Giovanni Soldini improved on the record time for the Clipper Route between Hong Kong and London, which was previously held by Lionel Lemonchois on the maxi catamaran Gitana 13. This return journey to Europe, covering more than 13,000 miles was sailed at an average of more than seventeen knots by the Italian skipper and his crew aboard a Multi 70, a 21.33m trimaran. "Giovanni achieved a remarkable performance racing against the time set by Lionel on a 33 m long catamaran. It took 36 days, 2 hours and 37 minutes to reach the Queen Elizabeth II Bridge in London. The bar has been placed very high," concluded Francis.
The 4 Records in the 2019-2020 IDEC SPORT ASIAN TOUR programme

. Mauritius Route: Port Louis (Brittany) – Port Louis (Mauritius): 26 days, 4 hours and 13 minutes
.
. Mauritius – Ho Chi Minh (Vietnam): a new reference time to be set
.
. Ho Chi Minh (Vietnam) to Shenzhen (China): a new reference time to be set
.
. Clipper Route: Hong Kong – London: 36 days, 2 hours and 37 minutes