The IDEC SPORT maxi trimaran is in the process of getting her new colours at the Multiplast yard in Vannes. This is the same yard that built her, originally for Franck Cammas. This step is more than simply symbolic, as with Francis Joyon, the legendary trimaran is starting a new life. Let's look back now at her history and her exceptional list of achievements, before Joyon and his crew attempt to smash the Jules Verne Trophy later this autumn…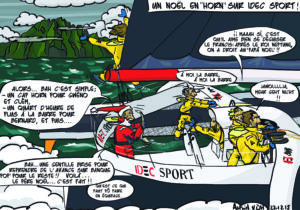 Francis Joyon, the fastest solo sailor to make it around the world, has got a new boat. He is now the official skipper of IDEC SPORT, the former Groupama 3, which became Banque Populaire VII. The 105 foot trimaran designed by VPLP (31.50m) knows her way around the world, as it was aboard her that Franck Cammas and his crew shattered the Jules Verne Trophy and held the record from 20th March 2010 to 6th January 2012. This record went on to be smashed by Loïck Peyron aboard the Maxi Banque Populaire V, which became Spindrift Racing. A duel between these two boats is certainly something to look forward to.
JULES VERNE TROPHY: Ups and downs
Let's go back. Around ten years ago, two skippers dominated the ORMA Grand Prix events: Franck Cammas (Groupama) and Pascal Bidégorry (Banque Populaire). They both wanted the Holy Grail, the outright round the world record for a crew: the Jules Verne, which was then held by Bruno Peyron's maxi catamaran Orange II. Bidégorry went for size, while Cammas preferred a lightweight approach (18 tonnes), with a 22.5m beam and already back then, foils. After the 130,000 hours it took to build her, the trimaran was launched in Vannes on 7th June 2006.
A few months later, Cammas got his first records. They didn't receive that much media attention with for example, the record between Miami and New York, but close observers noted that the average speed was extraordinary: 27 knots. As for the Jules Verne Trophy, that had to wait. In 2008, the first attempt failed, when the boat capsized off New Zealand. She was severely damaged, but was recovered and rebuilt. Cammas and his crew made a second attempt… but damage to a cross beam forced them once again to retire, eleven days after setting off. It was to be third time lucky. Thanks to an amazing climb back up the Atlantic (after being behind the record time for a long time) on 20th March 2010, Cammas and his crew of nine won their bet. They crossed the finishing line at the Lizard with a time of 48 days, 7 hours, 44 minutes and 52 seconds. The trimaran had entered the ocean racing history books. She would remain the fastest multihull to sail around the world for more than two years.
ROUTE DU RHUM: doing the double
Immediately following on from that, Franck Cammas decided to try his hand in the 2010 Route du Rhum, the most famous transatlantic race, after the event was opened up once again to giant multihulls. He needed however to adapt the boat… which had been designed to be sailed by a crew of ten. In simple terms, the mast was cut to 33 metres and the deck layout adapted, in particular with a bicycle frame to allow him to turn the winches by pedalling. May people remained sceptical about the ability of one man to sail such a monster in a fleet race. Cammas proved them wrong winning the event in Pointe-à-Pître after nine days, three hours and 14 minutes. He came in ahead of a certain Francis Joyon (2nd), who noted the qualities of the winning boat and began to dream of making her his.
In January 2013, the trimaran was sold to Banque Populaire, who handed the helm to Armel Le Cléac'h. He went on to achieve two spectacular solo sailing record previously held by Francis Joyon: the Columbus Route record and the 24-Hour record, which went to 682 miles sailed in one day. But Le Cléac'h was injured and so Loïck Peyron took over the helm for the 2014 Route du Rhum, where another victory was waiting. He set a new race record completing the event in 7 days, 15 hours, 8 minutes and 32 seconds.
So now we have IDEC SPORT, the extraordinary multihull aboard which Francis Joyon and a crew of merely five people will be trying to do even better. The trimaran has already become a legend, having held the Jules Verne Trophy and was unbeaten in the last two Route du Rhum races. We could not have imagined a better record-breaking boat to see Francis Joyon move from solo to crewed racing. The best dream machine you could think of.
IDEC SPORT in numbers
Designers: VPLP team (Van Péteghem-Lauriot Prévost)
Previous names: Groupama 3, Banque Populaire VII
Length: 31.50 m
Beam: 22.50 m
Displacement: 18,000 kg
Draught: 5.70 m
Mast height: 33.50 m
Structure: carbon-Nomex
Upwind sail surface: 411 m2
Downwind sail surface: 678 m2
Initially launched: June 2006