The giant trimaran IDEC SPORT skippered by Francis Joyon and his four crewmen is continuing to head due east this Sunday averaging more than thirty knots towards the south of Australia. In the positions at 5.30 p.m., IDEC SPORT had sailed no fewer than 743 miles over the past 24 hours averaging 31 knots.
Not far from 40 degrees South, the red giant is below the latitude of Cape Leeuwin heading east. The trimaran should turn left and head north shortly to sail towards the Sunda Strait to enter the China Sea and makes her way towards Ho Chi Minh City, the next stop in Vietnam of the IDEC ASIAN TOUR.
Following in the footsteps of the big sailing vessels
It looks like Francis Joyon and his crew have decided to sail around the world, if you look at their route to the south far from their destination in Asia. However, going right down to the SE is the consequence of their weather strategy as they are aiming to take advantage of the low-pressure areas in the Southern Ocean, as this worked so well for Francis and his crew during the Jules Verne Trophy in 2016-2017. During that crewed round the world record, which IDEC SPORT still holds (40 days, 23 hours, 30 mins), Francis and his crew shattered the record for crossing the Indian Ocean in just 4 days and 9 hours.
This is in fact the route taken by the big sailing vessels in the 19th Century, which were looking for downwind sailing conditions to be able to make headway east towards the south of Australia.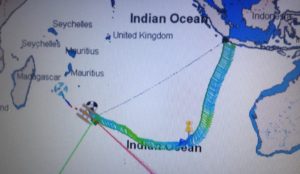 *The Indian Ocean record was set between Cape Agulhas in South Africa and Cape Leeuwin to the SW of Australia.