It is clear that in spite of the demanding conditions, everyone is enjoying being back sailing on the high seas, as they tackle their latest record attempt between Hong Kong and London. This morning, this has led to the crew of IDEC SPORT achieving a decent lead of more than 180 miles after the first days of racing over the time set by the holder of the Tea Route record, the 70-foot trimaran, Maserati. Francis Joyon and his crew of four have been making the most of a steady NE'ly wind offering them downwind sailing since Saturday. IDEC SPORT has carried out a series of gybes to get around the countless islands in the South of China Sea and is due to cross the Equator once again later today. This will mark the symbolic entry into the Southern Hemisphere and will coincide with the wind dropping right off for the giant trimaran. The way through to the Indian Ocean via the Sunda Strait will require a lot of patience and concentration.
Getting 86% of the boat's potential
"It was a relief to be able to set sail. We are pleased to be back at sea, as we enjoy this so much." There is no changing Francis Joyon, who remains as ill at ease in large cities as ever. After an extremely brief stand-by period, the sailor who holds the Jules Verne Trophy and who won the last Route du Rhum, accompanied by Antoine Blouet, Christophe Houdet, Bertrand Delesne and his son, Corentin, enthusiastically took on the role once again of record breaker. "We are pushing as hard as we can, remaining hard at work and concentrating on getting the trimming just right," explained Francis. "With the help of Christian Dumard, our weather expert back on dry land, I have stuck up charts in the cockpit indicating all our polars and speeds, knot by knot." Whatever the situation, the wind angle, sea state and wind strength, the crew knows exactly where to aim for in terms of speed. "We are getting 86% of the boat's potential. We can do better than that!" joked Francis.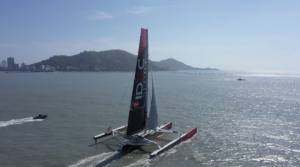 Being so demanding means that after just two days of racing in this attempt to smash the Tea Route record, they have achieved a substantial lead over the time set by Giovanni Soldini. "It took us just one day to sail the stretch that took us three days on the way out," said Bertrand Delesne, the boat captain. "It's fantastic to be sailing downwind," added Joyon. "We have slimmed down the boat as much as possible," he explained. "We even left our tender behind in Hong Kong. Giovanni and his crew were very quick in the transition phases. We are going to have to keep up with their pace in the coming days in some very light airs around the Equator and on the passage through the Sunda Strait. We hope to enter the Indian Ocean within two days and a few hours. Crossing the China Sea in less than five days would be good enough for us."
Due to slow down
In the next few hours, the situation will change drastically in this race. After averaging more than 27 knots out on the water in the first 1300 miles, later today, they will find conditions that are increasingly calm. "Now, we only have sixteen knots of wind," said Joyon. "We are approaching the Natuna Regency in the hope of benefiting from a bit more wind. The seas have calmed down somewhat and there is not as much shipping around. We deliberately avoided the Vietnamese peninsula to get way from all the fishing boats. But as we approach Malaysia, we will once again encounter lots of cargo vessels and all sorts of shipping."
They remain cautious, vigilant and are focusing on the boat, although the atmosphere is very warm and it is rather like being part of a big family. "We have just begun a very long voyage," explained Bertrand Delesne. "I think my longest trip so far has been 26 days aboard a Class40. This record aboard what is an extraordinary boat takes us into a different dimension. Everyone is working well together aboard, under the watchful and experienced eye of Francis. Stowing the supplies aboard in China was a moment of discovery. It is hard to move around the cockpit between the bags of Chinese noodles and other culinary surprises."