IDEC SPORT passed the latitude of Salvador de Bahia this lunchtime (Saturday), a place that the sailors know very well. They have all sailed in these waters either during round the world trips or famous fleet races like the Jacques Vabre or the Mini Transat. Knowing these waters, they are trying to get the most out of IDEC SPORT, while preparing to face some possibile calm patches.

"We've still got a bit of wind… In general, we're still advancing at around 20 knots. Occasionally, it drops off, we slow down, but then we get moving again." Francis Joyon was not particularly worried on the phone this afternoon, as IDEC SPORT passed Salvador de Bahia in Brazil. "We've all been down here many times for the Transat Jacques Vabre and the Mini Transat. With Bernard, Gwéno and Alex, I have at least three former Mini racers on board." The situation is not that bad either. Francis Joyon, again: "We have clear skies and the boat is perfect. We took advantage of a moment of calm to look around her and check everything and we are very pleased."
Getting ready for a fight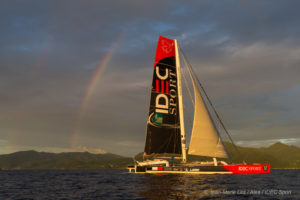 Joyon remains as calm as ever. A little uncertainty with the weather between 10 and 20 degrees south is not going to worry the skipper of the big red trimaran (They are currently at 13 degrees, so in the middle of it) currently attempting to win the Jules Verne Trophy with his five crewmen: Bernard Stamm, Alex Pella, Clément Surtel, Boris Herrmann and Gwénolé Gahinet. For the moment, they are still moving even if the lead over the record has fallen, as Banque Populaire V was very fast in this stretch, it is still around 200 miles.
The area of uncertainty is around 400 miles wide. "On the charts, it doesn't look that nasty and it doesn't look like there are any real calms, but Marcel (Van Triest, the router for IDEC SPORT) warned us that we might encounter particularly light airs," explained Francis. "So we're planning ahead. We've put all the weight in the bow and we have stacked the sails and all the weight inside. The aim of the stacking is to lift the boat's stern out of the water, in order to pick up speed in the light conditions. We're really planning ahead for this fight, as we need to get out of this zone quickly. The quicker we get out, the faster we get to the next lot of wind, of course."
So when will they be coming out? "I hope we'll start to get a clearer picture in around 30 hours (Sunday evening, editor's note), and that we'll be away from the major difficulties with the boat picking up speed again. It's true that there is some uncertainty with the weather in this area." We'll have to wait and see…
In short
. After 6 and a half days at sea, at 1430hrs UTC on Saturday 27th November, IDEC SPORT is sailing at 19.3 knots at 13°19 south and 32°23 West, 300 miles off Salvador da Bahia (Brazil). Bearing: south (169°). Lead over the record time: + 210 miles.