Off the coast of Uruguay, after a very slow night, the boat has picked up speed this morning. The men on IDEC SPORT now face three days of tacking upwind.
The fight is on. The men are battling it out in calm patches. As they clocked up their 35th day at sea during the night, they were sailing in a wind hole. "Sometimes we were down to less than three knots," explained Francis Joyon on the link-up this Sunday lunchtime.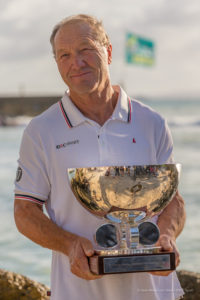 After 24 hours, which were as difficult as forecast, things have improved this morning. IDEC SPORT has found some wind again and her performance is back up to what we have come to expect from her with speeds around twenty knots. "We've picked up some wind," explained Francis Joyon, "but now we are heading straight into the wind. That means we'll be tacking upwind for the around three days to make progress towards the north." It is only after that that "we'll then have an easterly wind."
The ETA at the Equator will of course be affected by this tricky climb back up the South Atlantic, unless the high moves back to the east. Meanwhile, on board the big, red trimaran, the crew is beginning to appreciate warmer temperatures as they make their way back to more clement latitudes.