In less than 24 hours, Francis Joyon and his crew of five turned things around again in terms of the Jules Verne Trophy record time. They have just achieved another success following the one they had off the coast of South Africa, getting back up to the pace set by the record holder, having cut several hundred miles off their losses, which had reached 580 miles on Saturday morning.
The skipper of IDEC SPORT that his supporters are discovering as crew leader, heaped a lot of praise on his troops this morning congratulating them on their commitment and ability to ensure the trimaran was sailing at her full potential. With 1200 miles to go to the southernmost tip of South America, IDEC SPORT is looking calmly ahead to the final weather hurdle before they get out of the South and head back into the Atlantic, with a small area of low pressure to deal with 150 miles before the Horn. IDEC SPORT's intermediate time will depend on how they get across this calm patch and whether they "equal of do better than Banque Populaire V," explained Francis.
Tuesday lunchtime at the Horn?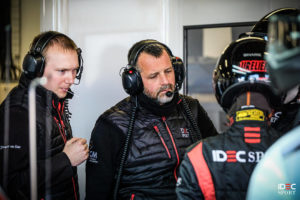 IDEC SPORT will be continuing her rapid, direct tack towards the Horn until tomorrow morning, clocking up some useful miles over her virtual rival that they should overtake this evening. The ETA at the Horn depending on the difficulties in the light patch associated with the low pressure area under the coast of Chile, is for an arrival within sight of the famous rock in the middle of the day on Tuesday, after exactly the same time as that set by Banque Populaire V in 2011 (30 days, 22 hours and 18 minutes), which was the best time ever achieved by a sailing vessel.
Christmas meal
Replying to the all important question concerning their Christmas meal, Gwénolé Gahinet revealed what the menu devised by Bernard Stamm, who is in charge of supplies, will be aboard IDEC SPORT. "It's going to be a bean stew." Sunday is the day when each crewman aboard the big red trimaran opens his sack of supplies with all the meals and little extras for the week. With a few days to go to Christmas, with the temperature plunging again, it is important to think about the taste and the calories to ensure that the short-handed crew is in the best physical shape. "After 28 days of sailing, I feel in good shape," admitted Gwénolé, they youngest member of the crew, who explains they have been able to bounce back in spite of a demanding watch system in the cold, the spray and the lack of comfort in an unstable bunk. "Compared to what we experienced to the south of the Kerguelens, the sea temperature here is 5 or 6 degrees and so it seems warm," smiled Joyon, who is nevertheless paying close attention to the information received from ashore concerning the position of the ice.
At a time when IDEC SPORT is starting to head further towards the east, following the Great Circle Route, the visibility remains above 5 miles meaning that the helmsmen can feel more relaxed. "The seas are a bit rougher," explained Francis, "and the whole of the bow sections are now underwater. It's impossible to go further than the foot of the mast." We can imagine it must be very tricky in these conditions taking in a reef with such a small crew. "Fortunately, our mast is perfectly suited to most of the conditions that we are encountering in the Southern Ocean," added Francis. "This morning was only the third or fourth time that we have taken in a reef since the start."