Competing in the fourth leg of the European Le Mans Series in the Le Castellet 4-Hour Race, the IDEC Sport Racing team can be pleased with their weekend in the south of France, after finishing tenth in the LMP2, confirming their progress aboard the Ligier Judd.
Seventh best time in the qualifiers, tenth in the final in the LMP2… this sunny weekend on the Paul-Ricard circuit fulfilled the hopes of the IDEC Sport Racing team. After the great start to the season in the European Le Mans Series at Silverstone (7th place) and going off the track at Imola, the drivers, Dimitri Enjalbert, Paul and Patrice Lafargue, arrived for the Le Castellet 4-Hour Race determined to get a good result in this fourth leg of the season (the team was not present in Austria in mid-July). Mission accomplished after a serious weekend, with the car on form and drivers managing more or less to find their mark aboard the Ligier Judd n°28, which is clearly making progress.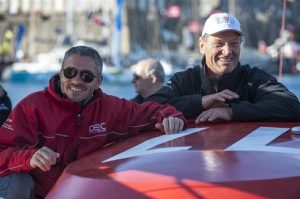 "We worked well and are getting faster and faster," confirmed Dimitri Enjalbert. This race was a bit like the one at Silverstone at the start of the season. No mistakes, just pit stops to change drivers, tyres and get fuel. We drove well and are making progress." The first on the track on Sunday, Paul Lafargue admitted afterwards that he was feeling a lot of stress, after coming off the track at Imola. "I was a bit scared at the start. So I got off to a cautious start with the aim of seeing the chequered flag." When he handed the car over to his father, Patrice, the Ligier was in tenth place, where they would stay until the end, without experiencing the slightest technical problem, which was another of the goals for this fourth leg of this season's ELMS.
"Sheer joy," said a happy Patrice Lafargue. With so little experience aboard this car, we found the right settings during the trials, which made her easy to drive and more importantly stable, with no wear and tear. For a driver, it's fantastic to have a car that is so regular." Talking about the progress made by the team in the demanding ELMS championship, the next leg of which is from 23rd to 25th September on the highly appreciated Belgian circuit of Spa-Francorchamps, he added, "We're gradually making progress and we're on schedule and learning a lot. This meeting was good training."
This week in Barcelona, it won't be mere training, as this is the vital sixth and penultimate leg of the 24-Hour Series. To be in with a chance of getting on the final podium or even winning the title in the A6-Am category, which is one of the team's goals, the Mercedes AMG GT3 in the colours of IDEC Sport Racing must get a good result on the Catalan circuit in the 24-Hour format, which is so demanding on the car and the men. The decent result at Le Castellet has given a boost to their confidence, while the car has already shown what she can do this season. They just have to see whether it all comes together in Barcelona, so they can look forward to a breathtaking final in mid October in Brno…