As the wind has veered and the trade winds have filled the sails, the IDEC SPORT maxi trimaran has been lifted and her speed towards the Equator has increased. Joyon and his troops are making the most of what the wind is throwing at them.
25-30 knots tonight
The situation has clearly improved on IDEC SPORT on this 39th day of sailing after three horrendous days of tacking upwind in light airs. While the trajectory taken by the multihull still is not as straight as in the Indian Ocean for example, it is becoming more so with each passing hour, as the trade wind shifts further and further to the east. They can now head due north and it is only down to squalls that the boat has moved slightly towards the west at times. "We are taking advantage of each wind shift," explained Francis. "When it strengthened late in the night, we even removed the foil and lifted the daggerboard, which is something we haven't done for ages."
A strengthening trade wind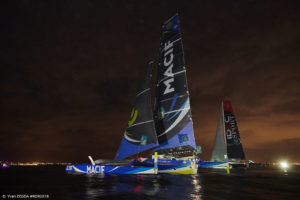 The helmsmen were thus able to get back up to speeds above 25 knots for a few hours, a situation the men on IDEC SPORT hope will stabilise today to become the norm until they reach the Equator. "The charts are looking more positive now," Joyon said sounding upbeat. "According to our latest analysis, the trade wind should strengthen, allowing us to get to the Equator on the night of the 1st-2nd January." The Equator and the climb back up towards the Horn of Brazil are the current goals. It is true that back on dry land, Marcel van Triest, and at sea the six men on IDEC SPORT are also looking ahead to the weather patterns in the North Atlantic. But for the time being, the important thing is finishing this climb back up the coast of Brazil with its paradise resorts, as efficiently as possible. After the recent painful experiences in the Southern Hemisphere, IDEC SPORT hopes to begin 2016 in style with a dash towards the tip of Brittany with the spray flying and very high speeds.