The happy faces on the sailors during this morning's video conference live from IDEC SPORT were a pleasure to see. Francis Joyon's crew is in the process of seeing their gamble pay off and ending up on the right side of the area of low pressure coming down from Madagascar. The big, red trimaran is smoking: 450 miles regained in two and a half days.

Less than 350 miles behind the record pace in comparison with 800 on Sunday, IDEC SPORT is clocking up the miles at very high speed. Deep in the Southern Ocean, Francis Joyon and his crew of five have put their foot down, clearly stating their goal: to attempt to stay above 30 knots for as long as possible and weave their way around the Great Circle Route low down in the Furious Fifties between 52 and 54 degrees south.
As fast as possible on the shortest route
This is not some miracle that has suddenly happened, but the result of a carefully thought out strategy developed with their onshore router, Marcel van Triest. According to him, the risk of encountering icebergs is not as great as 48 hours ago, when a 150m long monster was spotted on the radar. The race track looks clearer now and they can get the speed back up.
So they are on the attack, sailing as fast as possible on the shortest route, even if this means diving down to where no multihull has gone during such a record attempt. Yesterday evening, IDEC SPORT gybed at 54°31 south, after passing to the south of the volcanic Heard Island. "It's a snow-capped volcano, which is still active. We hoped to see the smoke, but we didn't get to see anything," said Francis Joyon. Marcel Van Triest – with five round the world voyages under his belt – remembers that during the first Whitbread and Vendée Globe races, when there were no Ice Gates, a few monohulls sailed as far down. But no multihulls. So, in short, this is a long way south and it is very cold. Outside, your hands and face freeze, and they have to change over at the helm very often, sometimes every half hour. Inside the boat, in spite of the very basic heater, fitted above all to get rid of some of the dampness, it is between 6 and 8 degrees. However, in spite of the harsh conditions, the sailors on IDEC SPORT have a smile on their face. A beaming smile, as it looks like after their hard efforts, their gamble has paid off.
On the right side of the Low
The race against the area of low pressure is being won. That's today's good news, as Francis Joyon explained, "The area of low pressure has slowed down, while we managed to go faster than expected, so things are looking up. We are in with a very good chance of making it to the other side of this tropical low." To be more precise about the movement of the low, it is expected to move behind them on Thursday evening. "Unless they have a major technical problem, they should get ahead, and that is almost certain now," declared Marcel Van Triest this afternoon.
Francis Joyon added, laughing, "In any case, we have to pull this one off, as otherwise Bernard (Stamm) has threatened to turn us around and come back!" The Swiss sailor made it clear he was joking and that he won't need to carry out his threat anyhow, as the boat is sailing at 100% of her potential… and the sailors are feeling very upbeat today. In two and a half days, the troops on the red boat have cut their deficit in comparison to the record pace in half, regaining 450 miles. Around a thousand miles from the longitude of Cape Leeuwin that they are expecting to cross early on Friday morning, they are now only 350 miles behind the record run.

450 miles regained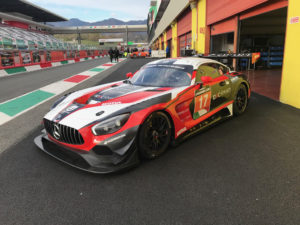 It is true that they are not going to be able to keep on making such gains and at some point in a few days from now, they are going to have to climb back up to fifty degrees south, if we look at the weather charts. But they have already accomplished something. While the end of last week was difficult in terms of the numbers, the start of this week has been very positive and exciting. "When we are at the helm, we remain focused and the goal is to keep up a good VMG, with a compromise between speed and bearing," the German sailor, Boris Herrmann explained. He went on to talk about the food they were getting on board. In general, they have all they require, but the freeze-dried stuff doesn't taste that good "while the bits of ham that Bernard prepared are well received."
Gwénolé Gahinet, the youngest member of the crew and a rookie as far as the Southern Ocean is concerned, feels positive too. Apart from his obvious talents as a sailor, he has also been using software to identify sea birds to teach the crew about what they can see. "Here, under the protection, it's a bit like a gathering in the pub," joked Francis Joyon during the live link-up, encouraging his crewmen to take the microphone. It shows what the master of IDEC SPORT is like. He willingly shares the microphone and his experience of adventures at sea. This adventure is up there with the best. The boat is at 100% of her ability, the weather strategy has worked out (more gybes at 1200 and 1400hrs UTC), high speeds and all clear ahead… all the lights are on green for the big red boat.