With the wind strengthening during the night off the south of Brazil, Francis Joyon and his crew of five have gone from gloom and doom to sunshine. Seriously slowed down for 36 hours by a ridge of high pressure, which continued to expand along their route, the crew has been through the nightmare scenario dreaded by all sailors struggling in light airs. On this 37th day at sea, IDEC SPORT is more than 800 miles behind the Jules Verne Trophy record holder. With 5000 miles to go to the finish, it is seeming less likely that they will set a new record time at Ushant, but aboard IDEC SPORT with her short mast and short-handed crew, the spirit remains one of determination.
A sleepless night…
"We all felt a bit down," Francis Joyon told us. "We were expecting to spend just a few hours getting through a calm patch. But in the end it cost us a good day! Everyone kept their feelings to themselves and just carried on working to the best of their ability." Francis, as is his custom, didn't get a wink of sleep during this passage through the light airs. A stronger air stream arrived earlier than forecast during the night, enabling the giant trimaran to pick up speed but on a bearing that is not very efficient in terms of VMG, as throughout the night IDEC SPORT was heading towards Brazil.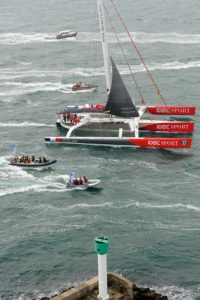 Tacking upwind to the trade winds
Since the middle of the day, Joyon and his men have started to sail as close as possible to the wind towards the NW. This tacking has so far gone well for the trimaran, on seas that are still smooth. "We have 18 knots of wind, and the boat is doing well, without slamming too much…" Gwénolé Gahinet explained. It is by tacking upwind that IDEC SPORT hopes to reach the latitudes, where the SE'ly trade wind is blowing. She will then be able to sail towards the Equator at a decent speed and on a route that is very efficient to get them back to the tip of Brittany. The crew made the most of the period of calm to give the boat a check-up. "Clément Surtel, who isn't claustrophobic, climbed up the inside of the mast," explained Francis, "while Alex carried out a big repair job on the G1 gennaker." The maxi, IDEC SPORT is therefore in the best of shape to complete this stretch of the South Atlantic with all its contrasts and head into the North Atlantic hoping that the wind will be kinder to them, allowing them to get back to the level of performance we saw in the Indian Ocean in particular.