IDEC SPORT is passing the Azores at 33 knots in heavy seas. The big gennaker only came down when the wind got above 35 knots last night. Francis Joyon's scenario is clear: he wants to be in Brest as early as possible on Friday to beat the record set on this boat by Franck Cammas in 2010.

48 hours. An exciting film and an exciting finish to the round the world voyage for Francis, Bernard, Alex, Clément, Gwénolé and Boris. "If we get 100 % out of the boat, we can imagine crossing the line on Friday lunchtime. We'll see how it goes," stated Francis Joyon at noon today (Wednesday).
Last night, and it is indeed still the case today, the sailors on IDEC SPORT have not eased off. They only brought down the big gennaker (the largest of the boat's headsails), when the wind exceeded 35 knots. "We then set up the J1, which is good for winds in excess of thirty knots. The idea of 'climbing the stairs' back up towards the north is to get some stronger winds and go faster…" Off the Azores the waves are already reaching 14 feet and that is set to increase as IDEC climbs back up north into the heart of the low-pressure areas sweeping across the North Atlantic.
Almost due north
Early this afternoon they are planning to gybe once again to the north of the Azores "That's when we will decide which route to take, as there is the possibility of heading due north or going towards Cape Finisterre," at the NW tip of Spain. The Spanish option looks smoother, but there is another risk. "After the front goes over tonight, there could be several hours of lighter winds. Getting stuck in a heavy swell with light winds with the sails flapping would be tough on the gear," explained Joyon.
So, it is highly likely that IDEC SPORT will head northwards. "Our gut feeling tells us for the moment that this is the best option in order to cut across this front as quickly as possible avoiding the lighter airs behind it. We won't avoid the nasty seas, huge gusts and heavy weather. We'll have to play around with the foil to cut through the waves as best we can. For the moment, the boat is doing well and everything is fine," Francis told us.
Two records to beat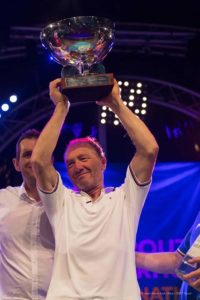 What is at stake now? They want to complete this round the world voyage safely, but also as quickly as possible. In so doing, they could achieve some special prizes. For example improving on the time set by Franck Cammas and his crew of nine in 2010 on this very boat, when she was in the colours of Groupama. Five years ago, they took 48 days, 7 hours and 45 minutes winning the Jules Verne Trophy, which would then be smashed two years later by Loïck Peyron's Banque Populaire V. "Yes, that's an additional motivation," admitted Francis Joyon with a smile. "We didn't get the trophy of course, but this encouraged us for example to keep up the big gennaker for as long as possible last night." As IDEC SPORT completed 15 and a half days of sailing at 1400hrs today, they could even shave a day off that time. And then, there is another personal record to beat for one member of the crew. Bernard Stamm was in Bruno Peyron's winning crew in 2005 on the Orange II maxi catamaran (50 days 16 hours). Francis Joyon laughed, "Oh yes, of course, Bernard was on Orange! OK, so we're going to have to try to smash two records…" They have 48 hours and 1200 miles of heavy weather ahead of them before getting home.